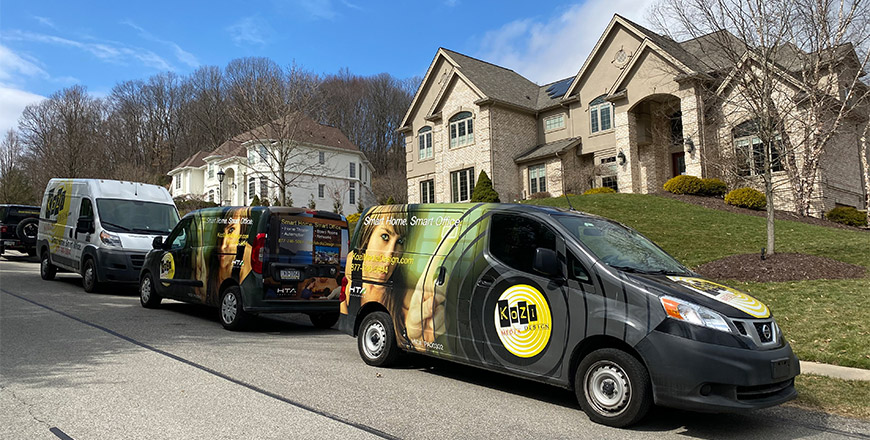 Residential and commercial solutions.
Bringing excitement, convenience, and security into your home or workplace is our business, and we take it seriously.
In 1986 brothers Tim and Chris Koziarski kick-started their lives to the Richmond Virginia area to find their niche in life. Tim was immediately recruited to a big box retailer where he developed the area's first ever custom installation division, increasing their profits and footprint in the region. Chris spent his time in retail, sales, and operations until the days the brothers relocated to the west coast where Tim was promoted to continue on his development venture for a Fortune 500 competitor and Chris promoted to running operations and distribution. The brothers eventually ended up in the same company, but different building locations perfecting their crafts, until each parted ways. Tim was hired to a top integration company located nearby Apple Headquarters and Stanford University, where he worked with the area's top integrator's and inspirer's of the time in and around the valley. Chris went into a start-up company in an operations and finance position where he developed their operational chain of distribution and inventory processing across the country. Both felt something was missing, and that component was that they had both been building other businesses instead of their own. Kozi Media Design was born.
We professionally design, engineer, project manage, program, install and service all components of your residential or commercial project to ensure your complete satisfaction. Chris Koziarski
Kozi Media Design
In 1994, while still in California, Chris and Tim Koziarski started to create their business plan and establishing Kozi Media Design. These brothers from Pittsburgh who made many significant contributions to Silicon Valley's audio and video technology breakthroughs were about to become operational. Five years later, the Koziarski brothers relocated themselves, their pets, family, and their business to their hometown of Pittsburgh, where they've been operating ever since under the guiding principle of educating their customers of the top technology breakthroughs and life-enhancing integration technology. They take a hands-on approach from start to finish providing individual attention to each client - before, during, and beyond the completion of each project.
Our first client when we started our company in 1999 is still our client today, like most others. We value our customers like family. Tim Koziarski
Kozi Media Design
Kozi Media Design takes great pride in being a one-stop-shop for customers who want to know about the available technologies and need to trust a company they partner with to execute a quality product.
KOZI Quick Facts
Family-owned and operated business


Established in 1994 by brothers Chris and Tim Koziarski


An audio visual solutions firm where we "think outside the box" of typical integration


Combined experience of 45+ years in design, systems integration, engineering, installation, operations, and construction


Headquartered in Pittsburgh, Pennsylvania


Serving residential and commercial clients around the state, region, and country
To learn more, call Kozi Media Design at 1-877-746-5694 or send us an e-mail.